Click.org Can Do A Lot Of


Amazing Things...

Our cutting edge click tracking software is the 'secret weapon' used by many of the world's top online marketers, email marketers, affiliates, media buyers, bloggers, small business owners and online entrepreneurs who want to increase their profits.
Real Time Tracking
Track your click and conversions in real time, as they happen.
Intelligent Split Testing
Easily split test landing pages or offers and track conversions.
Track Email Opens & Clicks
Track your email opens & clicks through your entire sales funnel.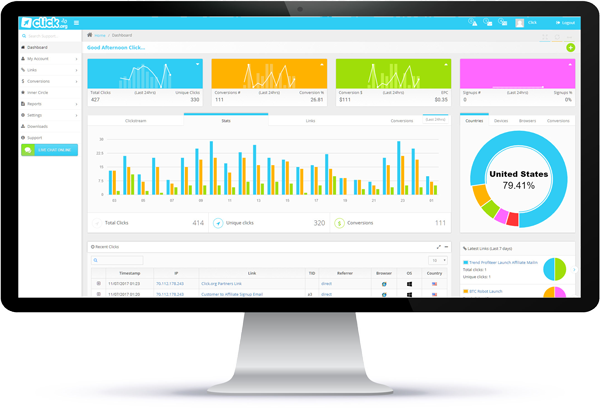 Target Your Traffic
Target and re-target traffic to increase sales and leads.
Advanced Link Rotation
Solo ad or email sellers rotate your clicks however you want.
30+ Powerful Features
Over 30 features designed to help grow your business.
Works Everywhere You Market Online...


TRY Click.org 100% FREE For 14 DAYS On US...
Sign up Now!
No credit card required.
Click Tracking Software

Built To Optimize Your Marketing
Click.org is simple to use and gives you everything you need to track, target and optimize all of your online marketing in one place.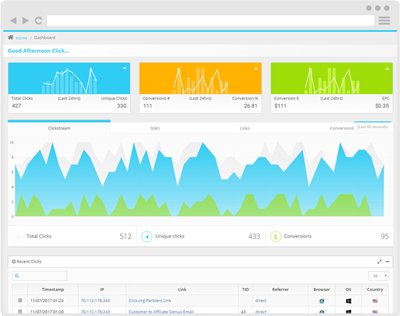 Real-Time Stats & Live Clickstream
View Your Clicks & Conversions In Real Time As They Happen
The confusion of checking stats is gone. With just one look at our dashboard you'll have access to absolutely everything you'd ever want to know about your traffic and numbers.
No cluttered layouts. No confusing buttons. No need to decode the data just to make sense of it.
Instead of boring data and numbers, you get fun colorful charts and clean graphs, so you can see in a glance how all of your campaigns are performing.
You can even watch the clicks come in LIVE in Real-Time on our Clickstream.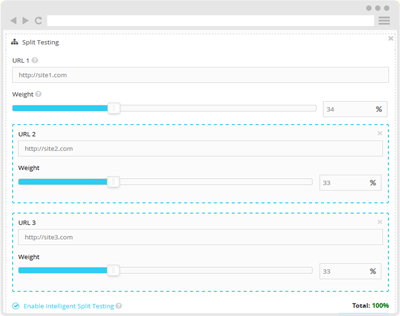 Split Testing & Conversion Tracking.
Real-Time Split Testing Made Simple & Smart.
Split testing doesn't need to be difficult or complicated. With Click.org you can set up a split test in seconds which makes testing headlines, prices or offers a piece of cake.
If you want to up your game, just tick the "Intelligent Split Testing" box and we'll compare your results and show the winner more often, increasing your conversions. It's hands off split testing.
Whether you want to compare which variables resulted in opt-ins and sales or split test mobile traffic or only want to send a small percentage of traffic to the test page... Click.org does all this and more without breaking a sweat. Better still, advanced conversion tracking features are neatly tucked away and are simple to use, so there's no confusion or clutter.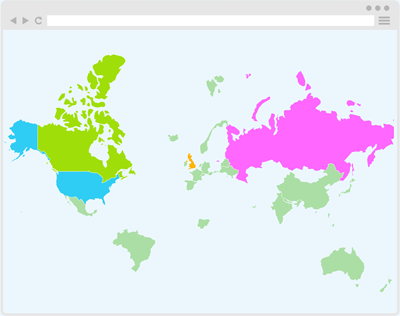 Laser Target Your Traffic.
Optimize, Target and Re-Target All Your Traffic.
Marketers everywhere are missing out on sales and leads from poor traffic targeting. Here's just a small taste of how Click.org can help you better target your traffic:
Geo target your clicks based on the country they're in.
Redirect mobile clicks to mobile friendly and optimized landing pages.
Filter out bots, search engine spiders and fraudulent clicks.
Use Click.org to re-target your clicks on FaceBook and other sites.
You can even send multiple clicks from the same person to a different landing page each time... or filter out email clicks... or rotate them any way you want.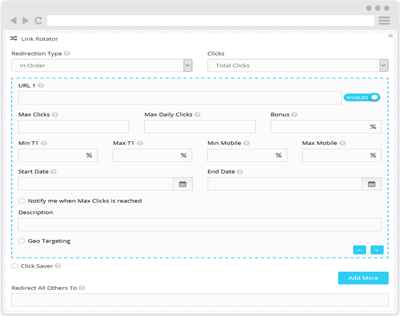 Advanced Link Rotation
Solo Ad & Email Click Sellers, Listen Up.
If you sell solo ads or email clicks, Click.org has one of the most advanced link rotation systems on the market. Everything is totally customizable so you are always in complete control of your clicks:
Set the max clicks, or max daily clicks per link.
Set the percent of Tier 1 Traffic to send to each link.
Manage how much mobile traffic you send or don't send.
Filter out junk clicks or non email clicks.
You can even add bonus clicks, add start and end dates for each link, or add link specific geo targeting to each link in your link rotator or use our "Click Saver" feature to save clicks.
All The Tools You Need To
Track, Target & Optimize Your
Online Marketing
Click.org is not just another "Link Tracking Software." With Click.org, you get 30+ built-in tools that help you to track, test and optimize all of your marketing campaigns from one easy to use dashboard, so you can see exactly what's working and what's not.
Link Tracking & Shortening
Click.org not only tracks your clicks, but it can also shorten and cloak your links. not only shorten your links to take an ugly affiliate link and make it look pretty - but it can cloak them as well from website visitors and even search engines.

It can also create custom branded tracking links with unlimited tracking ID's using Click.org or your own custom domain name.

Link cloaking allows you to hide the destination URL of your link which helps to prevent commission theft.

That means no more lost or stolen affiliate commissions and long url's can be masked from website visitors.
Read More
A / B Split Testing
The split testing technology of Click.org goes far beyond the typical A/B testing.

Split test your landing pages to dramatically improve your conversion rates and maximize your ROI.

Using our built-in intelligent A/B split testing engine you can test and track an unlimited number of landing pages and we'll find the winner and redirect traffic to it automatically.

We'll also provide you with the full set of conversion data you need to get the most out of your marketing campaigns.
Read More
Email Open & Click Tracking
Click.org not only tracks the clicks you get from your emails, but it can track your email opens as well.

That means you can see exactly who opened your emails and when and export the data however you want.

Plus, we can track the opens to clicks to conversions throughout your entire sales funnel.
Read More
Custom Click Rotator
There are so many ways you can rotate your clicks, you'll wonder how you ever lived without Click.org.

Send clicks to any offers any way you want and divvy them up one link at a time, randomly or proportionally.

You're in complete control and all the click stats are conveniently sorted on the link stats page and are easily shareable with the buyers.
Read More
Funnel Conversion Tracking
Our conversion tracking is highly advanced and extremely accurate. It's what we do! We can track any and all conversions throughout your entire sales funnel.

Track conversions using our conversion pixel, javascript or our postback URL. We can track sales, refunds and chargebacks for fixed prices or dynamically.

And did we mention our Intelligent Split Testing Engine that can automatically send more traffic to the winning offer?
Read More
Re-targeting Pixels
Re-targeting is one of the best ways to make easy sales and if promoting an offer, buying traffic or generating your own, you can re-target it dirt cheap and double your chances of making a sale.

Click.org can add a re-targeting pixel to any link or website so you can re-target visitors on Facebook, Google or any other network you want. It's copy and paste easy.
Read More
Custom Branded Domains
Don't want a Click.org's short http://trk.org domain in your marketing campaigns? Use your own custom branded domain instead - you don't even need web hosting and there's still nothing to install.

Just point your domain to our site and add it to your account. You'll be able to use all of our fantastic features and maintain your brand at the same time!
Read More
Real-Time Analytics
When you have to wait for stats to show up in order to make adjustments, you're losing profits. We don't like that.

So Click.org let's you watch the action as it happens, so you can make the changes that matter most when they matter most.

With one glance, you'll know more about your traffic than the NSA!

Imagine the power of being able to instantly know which country each click came from, the exact time that they got there, when it happened, and whether they were using Chrome, Firefox or Safari.

And once again, the colored charts make it "oh so easy" to see.
Read More
Click.org Is Loved By Thousands Of


Businesses & Entrepreneurs
Click.org is a necessity in any marketer's arsenal and best of all, it actually makes you money at the end of the day!

Ewen Chia
#1 International Bestselling Author
Your service here is different and much easier and clearly geared towards the stats that marketers care about.

Shawn Casey
2011 Internet Marketer Of The Year
Click.org not only closely targets your traffic and optimizes clicks, but it also gets you more free traffic. Genius!

Anik Signal
Inc. 500 Business Owner
If you are sending any traffic at all, you'll want to make sure it's optimized, targeted and making you as much money as possible.

Adam Horwitz
Top Young Entrepreneur
I've been looking for something like this for a long time and the ingenuity of Click.org really impressed me!

Willie Crawford
9-Figure JV Broker
I've used many analytics tools in my career, but Click.org is pushing the Envelope to a whole new level...
Michael Rasmussen
Super Affiliate
You're One Step Closer To Seeing The
Power Of Click.org...
AS SEEN ON: